To build a premier sports complex for the youth of Chicago's North Lawndale and East Garfield Park communities. Through rugby and other sports, this Lions for Hope Complex will extend life opportunities for the children and young adults in this area to build their social capital. This facility will be considered a safe haven for those looking to grow and thrive within one of the most volatile areas of the US.
The Vision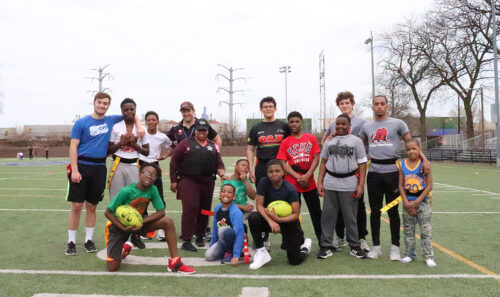 The Lions for Hope Sports Complex will provide a safe place for the community to gather. Athletic fields will provide at-risk children the opportunity to participate in a variety of sports and extracurricular activities within their own community. Athletics and education come together by forming partnerships with local schools and community organizations to provide mentoring programs that encourage children to stay in school.
We will accomplish this by:
Continuing our successful partnership with Chicago Hope Academy
Providing a facility for the Noble Charter Schools and other Chicago Public Schools for their outdoor athletics
Partnering with Big Brothers Big Sisters of Metropolitan Chicago
Providing a safe haven for youth in the neighborhood
Offering summer and holiday camps/activities to provide safe alternatives to gangs and violence
Developing a mentor program by partnering with existing programs and utilizing the CLCA network
Develop a grassroots rugby pathway for the surrounding community headed by the Chicago Lions' Director of Youth Rugby
Dome revenues will guarantee the self-sufficiency of the complex and reduce reliance on annual fundraising
George Plackmann
Secretary
Patrick O'Reilly
Board Member
Allie Movrich
Board Member
Brian Rooney
Board Member
From its humble origins in 1964, the Chicago Lions Rugby Club has grown into a powerful and inspirational organization.
With targeted recruiting and dedicated coaching, the Lions secured 16 midwest championships between 1966 and 2000. They then left to join the Super League where they would make it to the 2007 Championship game. In Rugby 7's, the Lions won over 15 midwest championships and the National Championship in 2007. Chicago Lions Rugby has continued to expand, emerge victorious, and produce world-class competitors.
Off the field in 2007, the Lions were busy purchasing a new gathering space. Two years prior, the Chicago Lions Clubhouse, purchased in 1981, had been sold. In that time, the Lions' leadership, alumni, and active members realized the importance of coming together as a team
both on and off the pitch. This led to the purchase of 3540 N Lowell, which would become home for many Lions for over 10 years. The proceeds of the sale went towards the rugby pitch at Hope Field, their current home, as well as the Lions for Hope Sports Complex.
Meanwhile in 2007, the Lions' former president, Keith Brown, had the opportunity to connect with the founder of Chicago Hope Academy, Bob Muzikowski. Keith and the Lions were encouraged by Hope Academy's vision for change and success in both Chicago's Near West Side and its youth.
Keith and Bob subsequently formed a unique, mutually beneficial partnership, allowing Chicago Lions Rugby and Hope Academy to align to serve the deserving youth of Chicago's most at-risk area. The partnership led to a first ever state championship in 2015 for Hope Academy's rugby team, as well as a new rugby field, the Lions for Hope Field.
While the original Lions for Hope Field served its function as a first home where many students and young members of the community were able to find their love for rugby, this location was unpurchasable. Both the Lions and Hope felt that having a permanent location would ensure long-term sustainability, and stability for both entities. Therefore in 2015, the Lions purchased half of the 8-acre south parcel owned by Hope to build the Lions for Hope Sports Complex.
Chicago Lions Rugby has adopted the vision that Hope has developed to expand beyond high school into the middle schools to create its own youth programs. This, along with the ability to collaborate and form new partnerships with school, community, corporate, and government organizations in the area, will allow the Lions for Hope Complex to become a safe place for the community to gather. In summary, the complex will provide at-risk children the opportunity to participate in a variety of sports and extracurricular activities within their own community that will help them realize their true potential.
Ways to Support
This is a great opportunity to give back to the Chicago community!
Spread the word about the campaign through your social channels (Facebook, LinkedIn, Twitter)
Connect us with individuals, corporations, or foundations that may be interested in this project
Donate to the campaign at www.lionsforhopesc.org/donate/
Let's Work Together
If you're interested in helping the CLCA and want to learn more, please get in touch. If you do not wish to donate online, you can mail a donation to:
Chicago Lions Charitable Association
PO Box 532
Northbrook, IL 60065
The Lions for Hope Sports Complex is located at 2637 West Polk Avenue, Chicago, IL 60612.
Chris McClellan
Executive Director, Chicago Lions Rugby
773-220-8729