The CLCA has partnered with Chicago Hope Academy to (1) build a premier sports complex for the youth of Chicago's Near West Side and (2) provide high-quality youth sports and educational programming in those communities
The Vision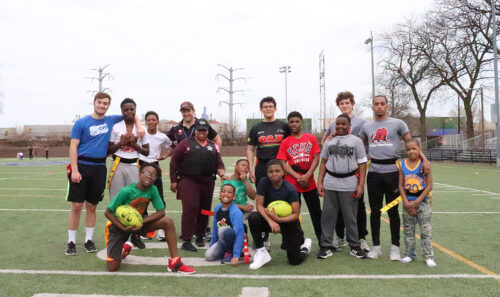 The Lions for Hope Sports Complex will provide a safe place for the community to gather. Athletic fields will provide at-risk children the opportunity to participate in a variety of sports and extracurricular activities within their own community. Athletics and education come together by forming partnerships with local schools and community organizations to provide mentoring programs that encourage children to stay in school.
We will accomplish this by:
Continuing our successful partnership with Chicago Hope Academy
Providing a facility for the Noble Charter Schools and other Chicago Public Schools for their outdoor athletics
Partnering with Big Brothers Big Sisters of Metropolitan Chicago
Providing a safe haven for youth in the neighborhood
Offering summer and holiday camps/activities to provide safe alternatives to gangs and violence
Developing a mentor program by partnering with existing programs and utilizing the CLCA network
Develop a grassroots rugby pathway for the surrounding community headed by the Chicago Lions' Director of Youth Rugby
Dome revenues will guarantee the self-sufficiency of the complex and reduce reliance on annual fundraising
George Plackmann
Secretary
Patrick O'Reilly
Board Member
Allie Movrich
Board Member
Brian Rooney
Board Member
Founded in 1964, the Chicago Lions Rugby Club has grown into a powerful and inspirational organization. With targeted recruiting and dedicated coaching, the Lions secured 16 Midwest Championships between 1966 and 2000 before joining the Super League where they would make the 2007 Championship game.
In Rugby 7s (seven-a-side), the Lions won over 15 Midwest Championships and the National Championship in 2007. Chicago Lions Rugby has continued to expand, emerge victorious, and produce world-class competitors. In 2018, the Lions established a Women's team. In 2019, the Lions won the Women's and Men's Midwest Championships in both 15s and 7s, an unprecedented accomplishment in American rugby.
In 2007, Lions' President, Keith Brown connected with the founder of Chicago Hope Academy, Bob Muzikowski. Keith and the Lions were impressed by Hope Academy's vision of transformative change Chicago's Near West Side and its youth. Keith and Bob subsequently formed a unique, mutually beneficial partnership, allowing the Chicago Lions and Hope Academy jointly to serve the deserving youth of one of Chicago's most at-risk areas.
The Lions-Hope partnership led to a first-ever high school state championship in 2015 for Hope Academy's rugby team, as well as a new rugby field, the Lions for Hope Field.
Ways to Support
This is a great opportunity to give back to the Chicago community!
Spread the word about the campaign through your social channels (Facebook, LinkedIn, Twitter)
Connect us with individuals, corporations, or foundations that may be interested in this project
Donate to the campaign at www.lionsforhopesc.org/donate/
Let's Work Together
If you're interested in helping the CLCA and want to learn more, please get in touch. If you do not wish to donate online, you can mail a donation to:
Chicago Lions Charitable Association
PO Box 532
Northbrook, IL 60065
The Lions for Hope Sports Complex is located at 2637 West Polk Avenue, Chicago, IL 60612.
Jeff Simon
President, Chicago Lions Rugby
847-921-0872