Hope Academy and CLCA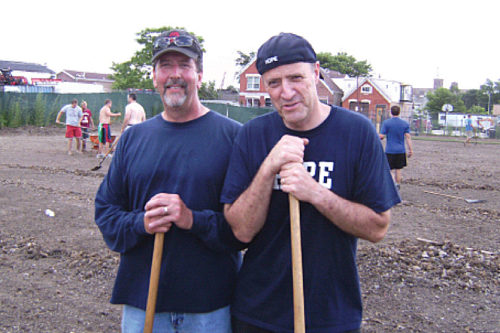 In 2007, Bob Muzikowski, Chicago Hope Academy Founder, and former NY Old Blue flanker, and Keith Brown, President of Chicago Lions Rugby, came together to form a unique, mutually beneficial partnership to further the development of rugby and to support youth development in Chicago. The Chicago Lions helped establish the Chicago Hope Academy Eagles Rugby program. The partnership worked so well that in 2015, the Chicago Hope Eagles, with veteran Chicago Lions coaching, won their first state championship. The championship was the successful culmination of many years of hard work, determination and sacrifice by untold numbers of Eagles and Lions.
During the summer of 2008, Keith and Bob  with the help of Hope students and Chicago Lions players and alums, created the first Lions for Hope Field at 2341 W. Roosevelt Road. Together, Hope and the Lions manually leveled, graded and sodded the field so both organizations would have a rugby field that they could call home. Hope and Lions practiced and played matches from the fall of 2008 thru 2015 on that pitch. Unfortunately, the field was not owned but leased at $5,000 per month, and reasonable terms for the acquisition of the property never came to pass.
In order to support the partnership, the Chicago Lions launched "the Lions for Hope" Benefit to help offset the field's lease agreement. The partnership continues to thrive and benefits both the Chicago Lions and Chicago Hope Academy youth.
In 2013, Chicago Hope academy was presented with the opportunity to acquire 15 acres of land a few blocks to the north and west in a quiet and undeveloped pocket of North Lawndale between Harrison and Taylor streets. The land was purchased in 2014 and Hope began the development of a full sized rugby field, state of the art Olympic track and site for future high school expansion on the north seven acre parcel.
In 2015, at the conclusion of the lease for the Roosevelt Rd. pitch, the CLCA led the way to creating a permanent home for the Lions when they entered into a formal partnership with Chicago Hope to purchase a 50% interest in the eight acres "South" parcel between Polk and Taylor streets. After two years of design and construction due diligence, it was time to go public with the project, The Lions for Hope Sports Complex. A full year was utilized to gain the support of the Alderman, the community, the Mayor's Office and the Chicago Dept. of Planning and Development.
After all support coalesced, an extensive zoning change was undertaken and successfully concluded in the spring of 2018 to allow for the development of a youth focused, rugby centric community facility and two state of the art artificial turf athletic fields. Both fields will be lit for maximum utility, and the primary field will also be domed seasonally for full year usage. The goal is to have the first field built by May 1st, 2019.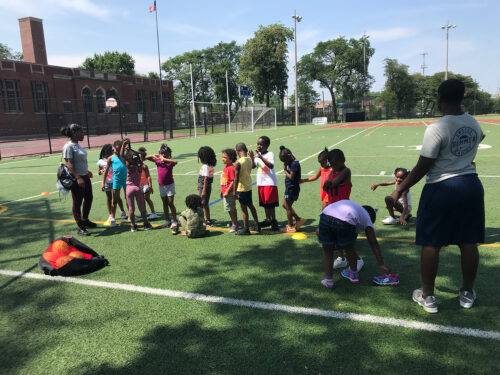 Bob and Chicago Hope spearheaded the redevelopment of the athletic field at the Park District's Altgeld Park where it now is artificial turf with Rugby, Football, soccer and youth baseball being played. Bob was instrumental in raising private funds to help partially fund the field. Altgeld Park then became the Chicago Lions practice field.
Bob was not done and gained access to Attack Athletics indoor training facility that is now called Quest Athletics. This facility will eventually be partially owned by Chicago Hope Academy. The Chicago Lions used Quest for their indoor training in the offseason.
There have been several Chicago Lions that have helped support Chicago Hope Academy over the years and the Lions relationship with Hope continues to grow.
The mission is to build athletic fields and develop programs for the children of Chicago's North Lawndale and East Garfield Park communities. Through rugby and other sports, we will expand life opportunities for the youth and increase their social capital. This project is not only to enhance the community but also give children a safe haven in the neighborhood.
The vision for the Lions for Hope Sports Complex will be to provide a safe place for the community to gather together. Athletic fields will provide at risk children the opportunity to participate in a variety of sport and extracurricular activities within their own community. Athletics and education come together by forming partnerships with local schools and community organizations to provide mentoring programs that encourage children to stay in school.
"I have been very pleased with how well the Rugby activities and curriculum was received by my students and parents. The students were not familiar with the sport and had to learn even the basic parts of the sport, such as how to pass and catch the ball.
It was a great way to bring the students together; teaching them how to operate as a team. I received calls from parents inquiring about this new sport/skill their child is learning, with a few offering to volunteer. The rugby project has been a great success and exposed the students to something new and exciting.
In addition to exposing my students to a new athletic sport, I noticed an improvement in the participants' overall attendance and behavior, as they became more invested in the sport. The students were able to participate in various rugby festivals and showed great enthusiasm competing against other schools. These interactions also provided an opportunity for the students to learn how to work respectfully with other team members, opposition team and coaches.
The rugby program overall has had very positive impact on the students that participated. I look forward to a continued partnership with the Chicago Lions after-school program at Nash in the next season."
~ Pawel Gut, PE Teacher at Henry Nash Elementary
"My name is Sammy Victor Sanchez. I'm the middle child of seven children. I have one brother and five sisters.
I started going to Chicago Hope Academy in 2015 out of the Pilsen area. I came to the school to continue my career in high school football. When I first started football I wanted to do something in the off season besides working out. I realized that Hope had a rugby team I joined, I was just looking into getting better at tackling.
Then when the partnership with the Chicago Loins started, I became more interested in it. Reason being I started to meet new people from all over the city and even over the world. We all had the same passion of playing rugby which I thought was cool.
Meeting Dave Clancy was pretty awesome , He would push us to do better with the help of the men's players. Then when Coach Andy came along, he pushed the tempo to another level. With the help of Josh and Jeff, two men's players that put up with us and all of our complaints.
Thanks to Coach Clayton and coach Kevin that would provide anything for the team and for us individually like with a ride home or to a game they were there no questions asked.
Also a special thanks to Pat Bolger for helping me with the rules and techniques when I first started as a freshman. I didn't decide to take rugby seriously until my senior season. I talked to Coach Kelly, a former Lions player and my Head Coach. He helped me get in touch with potential schools for me which I'm very thankful for. He also encouraged me to make this season worth watching for my coaches and my family.
I played hard every game to give my team the best chances of winning. Since it was my first year playing eight man I had a lot to learn for that position. Took some time and a couple of games to really get use to the position. Best part of it all was running the ball after we won the scrum, I was never great at passing so I just ran it as far and as hard as I could. I was comfortable doing that because I knew my teammates/ brothers had my back. I had such a great season because of them.
Now I will continue my rugby career at the University of Louisville, that was made possible by all my coaches and Kyle Freeman. Especially Coach Andy and Clayton for sending out my film to coaches.
Also a thanks to a great mentor I had while at Hope, Peter Dukes. Just a good man all around. He helped me through rough times and pushed me to graduate and finish school.
Finally I would like to thank my Mom and Dad for supporting me on my decision. I know it's a little far from home, but I know I will make you both proud."
~ Sammy Sanchez, Chicago Hope Academy Sr.
"When I was 9, I started playing football. I thought of it as the "roughest sport in the world".
Growing up I was always about being the strongest and toughest anywhere I went. I thought about having the most definition of muscles and a bunch of of other crazy dreams.
A little bit over to years ago I started to get mixed emotions. And I started feeling so down that all of those crazy dreams that I had. for so long started fading. I began to work out lesser and eat more. I had quit basketball, running and working out. "It was all too good to be true" I would tell myself. I went from an average 110-115lb to a humiliating 132lb at max. And that's just covering half a year at least estimated.
Then a few incidents happened and I found myself in a hospital. In the hospital, the food was disgusting. I began to eat only every 3 days or so. They check my weight constantly and I begin to notice a loss in pounds. I was getting super skinny but where were the muscles I remember thinking. And then there was a feeling I hadn't felt in so long motivation, consistency, power, just a great powerful surge running through my body. I started doing push-ups everyday: 100 in the morning 250 at night, 800 toe raises, 150 sit ups. Every single day for 4 months and 28 days. From November 15th of 2018 thru April of 2019.
Those month change my life but that's isn't the end of it, after I'd gotten out of the hospital. I was place in foster care under the care of Ms. Gloria, who now I call her Mom. I came into my mother care in April, which was spring break which she enrolled me into rugby. I had no ideal what is was.
So I tried it and loved it... not only is rugby a great sport, but it was way for me to meet other kids that love rugby like me. It keeps me super busy and I noticed that I started to make lesser mistakes because I was busy working out but overall, rugby be has kept me motivated and I could say that "YES" it is the toughest sport.
~ KeAndre Bates, Middle School Rugby
Ways to Support
This is a great opportunity to give back to the Chicago community!
Spread the word about the campaign through your social channels (Facebook, LinkedIn, Twitter)
Connect us with individuals, corporations, or foundations that may be interested in this project
Donate to the campaign at www.lionsforhopesc.org/donate/
Let's Work Together
If you're interested in helping the CLCA and want to learn more, please get in touch. If you do not wish to donate online, you can mail a donation to:
Chicago Lions Charitable Association
PO Box 532
Northbrook, IL 60065
The Lions for Hope Sports Complex is located at 2637 West Polk Avenue, Chicago, IL 60612.
Jeff Simon
President, Chicago Lions Rugby
847-921-0872