In creating a premier multi-use sports complex in Chicago's most under-resourced neighborhood, the Chicago Lions make a transformative commitment to provide mentoring through athletics as an alternative to gangs and guns.
This facility will focus on bettering not just the body, but also the mind. Whether that means learning in one of the available classrooms, participating in an event hosted by a community organization in the expansive main room, or taking break from the noise, aggression, or violence of the neighborhood by taking a walk on the lawn, this space is meant to offer physical and mental health benefits while also bringing the community together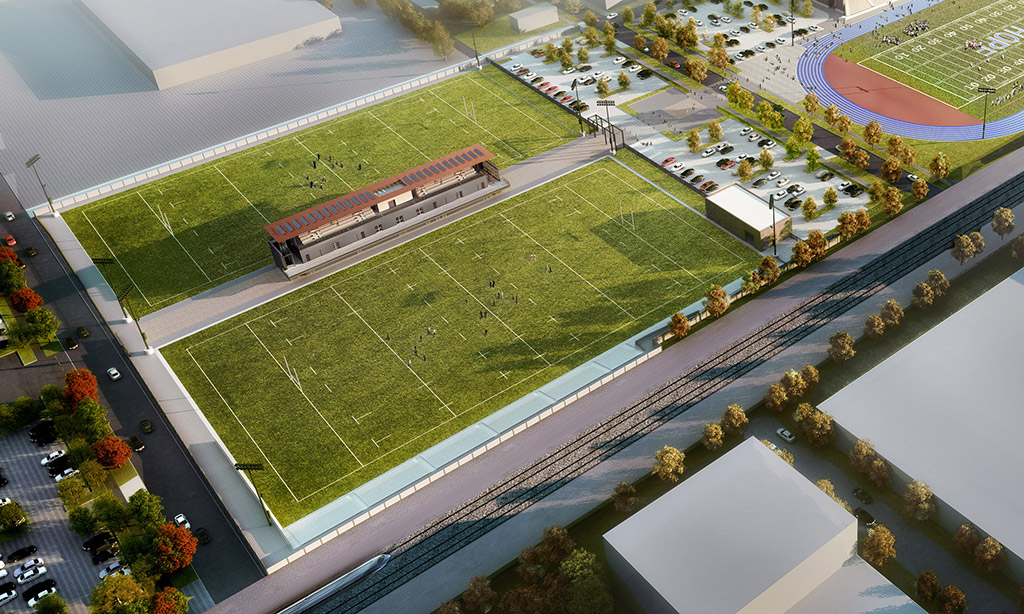 The entire facility has the capacity to include the following:
Rooms for educational experiences
Space to house activities for community organizations
Dog park
Space for walking and leisure
Two artificial turf lighted fields for rugby, soccer, baseball and other field sports, as well as potentail for golf, and other programs
Seating for the main field (capacity from 3,000 to 5,500)
Fieldhouse with a range of amenities for players, guests and community
Main room capable of hosting events
Commercial kitchen
Deck and viewing area with visibility to both fields
Four locker rooms with plumbing
Multi-purpose room (weight room/athletic trainer)
Concession stand
Dome East field for use throughout the winter
General green space
Programs
The Lions Youth Rugby program began in May 2018 after Chicago Lions hired a Director of Youth Rugby, Andy Rose. Andy came from Rugby Illinois, the state's youth organization, and has made inroads in the inner city.
The creation of a Youth Rugby program allowed Chicago Lions to run the Chicago Hope Rugby team, as well as connect with middle schools in the area. This program gave many youth in this at-risk area the opportunity to spend their time playing rugby. To date, programs exist and are operating in two area middle schools.
Chicago Lions coaches assist Wapiti Rugby, a partner club. In 2018, the Wapiti HS team was merged with Hope. Wapiti Rugby will be merged into the Chicago Lions Youth Rugby Program in its entirety beginning in July 2019 and will add 150 participants to the program.
There are 29 high schools and 54 middle schools in the immediate area, making 20,544 deserving students eligible for this program. These schools reside within 2 miles of the Chicago Lions program location. In our first school year Chicago Lions has been running programs in 2 schools with 4 schools to start programming in 2019, pending CPS vendor licensing, bringing the total number of youth participants to 120.
With additional mentors and funding, Chicago Lions believes it will continue its impact and growth, as well as have a positive influence on all eligible students. Additionally, we will gain a representative sample size for data collection and impact evaluation.
Community Rugby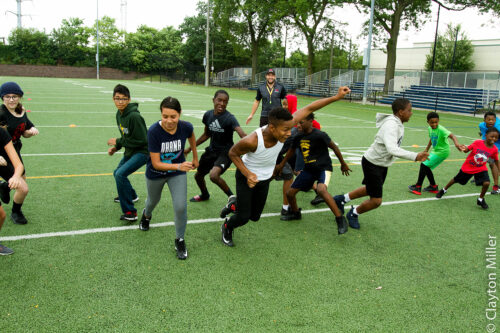 The Lions Community rugby program is an after-school program held daily at middle schools in the surrounding neighborhood.
This program was created as an opportunity for youth in the community to develop confidence and increase physical literacy in a team environment.
The goal was to create a connection with the local schools to introduce and support rugby programs. This is a new program modeled after programs in Los Angeles, New York City and Memphis. Expansion of these programs will occur on an annual basis.
After-School Outreach
An after school program that will serve as an informational introduction to rugby.
Taster - an introductory 2 hour taste of rugby
Camp - a one hour one day session for 4 weeks to introduce rugby basics
League - Two times a week, 1.5 hour sessions, 4-6 week program. Introduction to more complex rugby tactics and weekly matches leading to a league winner
Exit – Direct students to join their local rugby organization
Strategic Programming
Noble Charter Schools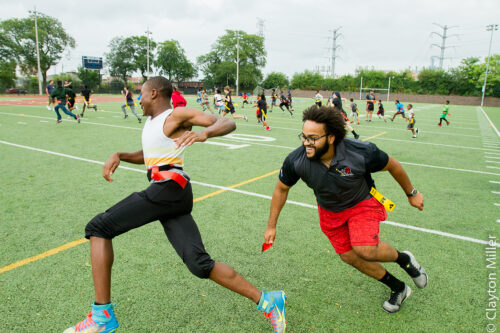 According to the US Department of Education: "[Noble] has an exceptional track record of helping low income and minority students attain significantly higher achievement and graduation rates. Further replication will benefit additional students and strengthen the Chicago Public Schools system."
Primary Lions for Hope Complex User
NNCS won 2015 Broad Prize, national award for top US charter school network
11,000+ students, 17 college prep campuses in Chicago, students 98% minority, 89% low-income, 90%+ graduates matriculated into college in 2015
Noble Athletic Conference aims to create positive impact through athletics, including a highly competitive boys-and-girls rugby program
Big Brothers Big Sisters
This organization aims to partner with role models, volunteers, and others in the community in order to bring children facing adversity higher aspirations, avoidance of risky behavior, and educational success.
The mission of Big Brothers Big Sisters is closely aligned with Chicago Lions'. Both are determined to make a safe space for the youth in this at-risk area. Chicago Lions believes this organization will use any requested facility space in the most influential way.
Ways to Support
This is a great opportunity to give back to the Chicago community!
Spread the word about the campaign through your social channels (Facebook, LinkedIn, Twitter)
Connect us with individuals, corporations, or foundations that may be interested in this project
Donate to the campaign at www.lionsforhopesc.org/donate/
Let's Work Together
If you're interested in helping the CLCA and want to learn more, please get in touch. If you do not wish to donate online, you can mail a donation to:
Chicago Lions Charitable Association
PO Box 532
Northbrook, IL 60065
The Lions for Hope Sports Complex is located at 2637 West Polk Avenue, Chicago, IL 60612.
Chris McClellan
Executive Director, Chicago Lions Rugby
773-220-8729